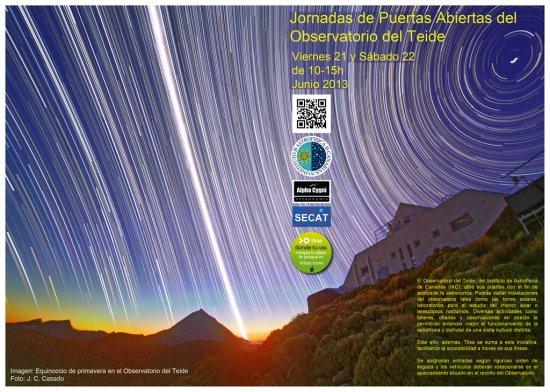 Over two days, from 10:00 until 15:00, groups of visitors will be allowed access to the telescopes, make direct observations and learn about fundamental astronomical concepts
Logistical information

Entry will be free of charge, strictly according to time of arrival. Vehicles must be parked in the space assigned to parking within the Observatory.

Since the Observatory is a high-mountain site, it is recommended that you comfortable shoe, a hat and warm clothing, and that you take some form of sun protection. If you suffer from any cardiovascular or respiratory ailments, you should bear in mind the risk of health problems arising related to the high altitude. In such cases, please consult your doctor.
Special Titsa Service:
Day: Saturday, 22 June 2013
Route: Intercambiador de Santa Cruz de Tenerife/Intercambiador de La Laguna/Observatorio del Teide
Contact: teide [at] iac.es
Further information: Spanish press release
See also: 2013 Observatorio del Teide Open Days Image and video timelapse