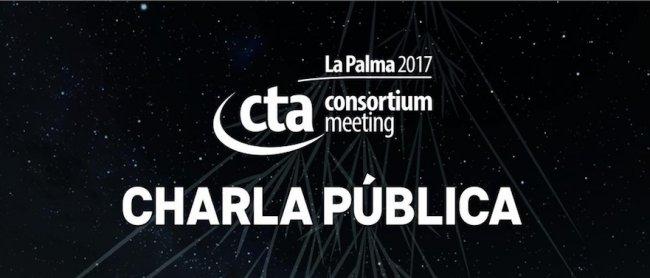 The director of the Institute of Space Sciences (IEC-CSIC), Diego F. Torres, will be responsible for explaining in the public talk, entitled "Observing the Extreme Universe from La Palma", which are the topics studied by gamma ray astrophysics using the Cherenkov telescopes. Among these are found some of the most violent phenomena of the Universe, such as pulsars, supernovae remants or supermassive black holes.
The talk will take place on Tuesday 7th at 7:30 p.m., in the Casa de la Cultura Santo Domingo of the Villa de Garafía. It will also participate Professor Wolfgang Wild, project manager of CTA (Cherenkov Telescope Array), which together with Diego Torres, will emphasize the importance of this group of telescopes to carry out the observations of these high energies.
An alliance for knowledge
Science is a team effort and the CTA consortium is clear. For this reason, instead of competing among them, the 210 institutions from 32 different countries that study the effect of gamma rays on Earth have decided to join in this project to improve the sensitivity of this type of observations and find out where the radiation is coming from.
For this reason, the process of building two different sites has already begun. One in the North, which will be located on the island of La Palma due to its optimal conditions for observing the Universe, and another in the southern hemisphere, located in the Atacama desert, in Chile.
The IAC's actions in the CTA project are financed by the project "The four Large Size Telescopes (LST) of the CTA-North in the ORM" reference ESFRI-2017-IAC-12 of the Ministry of Science, Innovation and Universities, 85% co-financed with European Regional Development funds (FEDER) of the Operational Programme for Intelligent Growth 2014-2020. This project is co-financed with Canary Islands Development Funds (FDCAN) from the Cabildo Insular de la Palma.
The Observatories of the Instituto de Astrofísica de Canarias (IAC) are part of the network of Singular Scientific and Technical Instructures (ICTS) of Spain.
Previous press releases:
IAC contacts:
Ramón García López:

rgl

[at]

iac.es

and +34922605386
Mónica Vázquez Acosta:

monicava

[at]

iac.es

and +34922605723