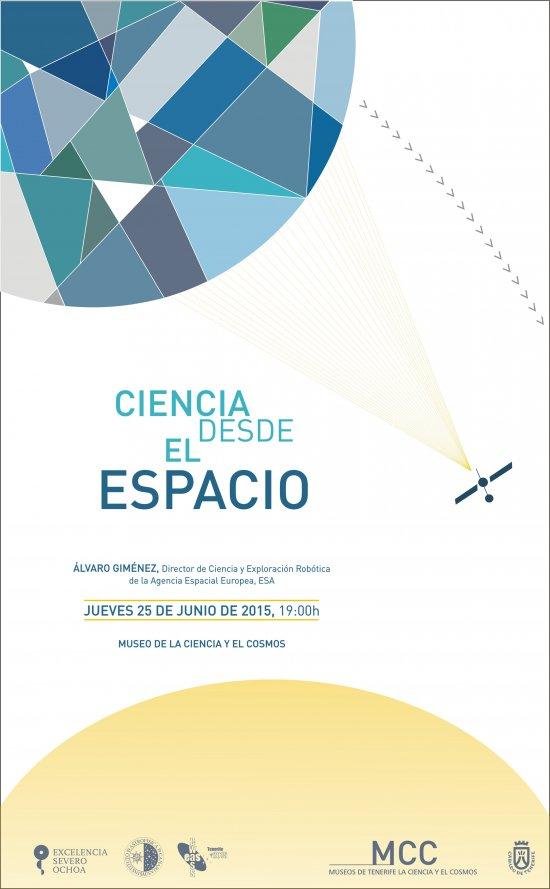 As one of the series of outreach lectures programmed by the Museum of Science and the Cosmos, of Museums of Tenerife, to accompany EWASS 2015 the second talk is scheduled for tomorrow, Thursday June 25th at 19.00. It is titled "Science from Space" and will be given by the astrophysicist and scientific director of the European Space Agency (ESA) Álvaro Giménez.
In the previous lecture, last Friday, the Australian astrophysicist Amanda Karakas gave a talk in the Museum about red giant stars, and the production of the heavy elements in the universe. On July 3rd the Canadian astrophysicist Stéphane Courteau, of the Department of Physics and Astronomy at Queen´s University (Ontario) will give a talk about galaxies. 
A new visión of the Universe
Álvaro Giménez will talk about observatories in space, which give us a new vision of the universe, avoiding the contamination by the Earth´s atmosphere. Thanks to them we can even explore new worlds in the neighbourhood of the Solar System. The scientific programme of the European Space Agency gives us the best possible tools to carry out this type of scientific research. 
This astrophysicist is Director of Science and Robotic Exploration of ESA. He is also the Director of the European Centre for Space Astronomy (ESAC) and he is on a special secondment from his job as Research Professor of the CSIC (Higher Council for Scientific Research) in Spain. He has published several books and over three hundred scientific articles in the field of stellar astrophysics.
This new edition of EWASS, the European Week of Astronomy and Space Science, coordinated locally by the Institute of Astrophysics of the Canaries (IAC) is being celebrated on the Guajara Campus of the University of La Laguna from 22nd to 26th of June. The conference is organized by the European Astronomical Society, in collaboration with the Spanish Astronomical Society, the Institute of Astrophysics of the Canaries, and the University of La Laguna.
Further information and contacts:
EWASS 2015 website: http://eas.unige.ch/EWASS2015/
Anna Boluda
Comunicación SEA 


contacto

[at]

sea-astronomia.es


Tel. 619 77 45 16
Carmen del Puerto
Unidad de Comunicación y Cultura Científica, IAC


cpv

[at]

iac.es


Tel. 922 605 200