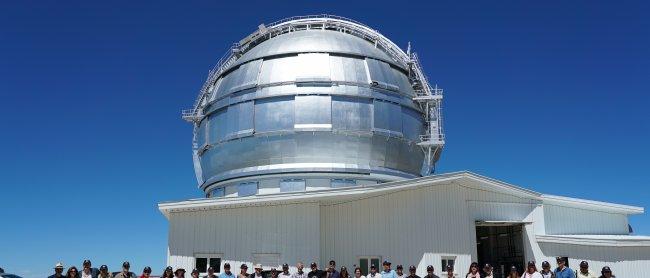 To complement the first Hispanoamerican Festival of Authors, which is taking place this week in Los Llanos de Aridane (La Palma), the Instituto de Astrofísica de Canarias (IAC) invited the participants to visit the Roque de los Muchachos Observatory in the municipality of Garafía (La Palma)
During the visit, which took place yesterday, the writers could get to know some of the scientific installations sited on this mountain top on the island, such as the Gran Telescopio Canarias (GTC), the largest optical-infrared telescope in the world, accompanied by its Director, Romano Corradi, and the Observatory Administrator Juan Carlos Pérez Arencibia, the MAGIC telescopes, and LST1, the prototype of the Cherenkov Telescope Array (CTA) accompanied by Victor Accari, a researcher in the MAGIC collaboration.
Tribute to Stephen Hawking
The IAC also participated in a panel discussion in tribute to the British scientist Stephen Hawking, held in the Benahorita Archeological Museum in Lo Llanos de Aridane. Stephen Hawking, who was made "Honorary Professor of the IAC" for his important contributions to cosmology, to the physics of black holes, and to science outreach, was in the Canaries twice, to participate in the multidisciplinary Starmus Festivals of 2014 and 2016, in which he gave two lectures in Tenerife, and visited La Palma to inaugurate the Promenade of the Stars of Science.
Rafae Rebolo, cosmologist and director of the IAC, and Jorge Casares, an IAC researcher who discovered the first-stellar mas black hole from the Roque de los Muchachos observatory, participated in this round table, together with writers Mónica Lavín, Professor of Research in the Academy of Literary Creation of the Autonomous University of Mexico City, and Carmen Posadas, winner of the Planeta prize in 1998, whose work has been translated into 23 languages. The chairman of the panel was the journalist Carmen Del Puerto, Head of the Unit of Communication and Science Culture of the IAC (more information in a coming press release).
Last press release: http://www.iac.es/divulgacion.php?op1=16&id=1445
More information: https://hispanoamericanodeescritores.com/