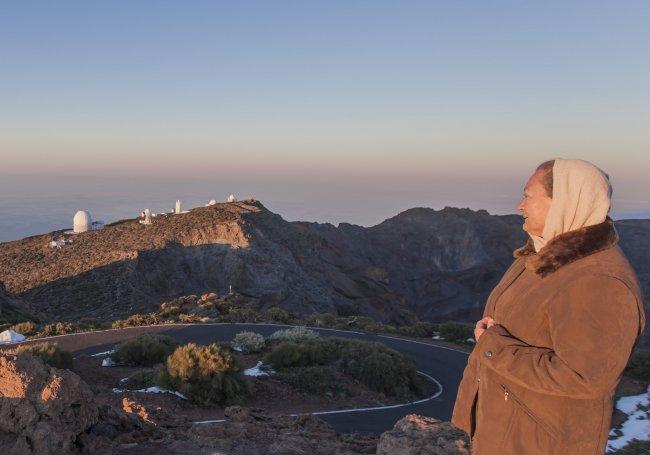 The writer Elsa Lopez, born in La Palma, visited the Roque de los Muchachos Observatory, in Garafía (La Palma), inaugurating the Instituto de Astrofísica de Canarias transversal project "En un lugar del Universo..." in collaboration with the scientific institutions of the Canary Observatories and the Museo de la Ciencia y el Cosmos, of Museos de Tenerife.
"There is a lot poetry in Astronomy", said Elsa fascinated after living a ninght of observation. She is the first of a groups of writers who will visit the astrophysics Observatories on the occasion of the fourth centenary of the death of Miguel de Cervantes. The IAC and the Canary Observatories celebrate the anniversary with this initiative that merges Literature and Astronomy. The project will also bring in the forthcoming months, other known figures of Spanish literature to find inspiration in the Cosmos and write his vision of Astronomy in a volume of short stories whose end is a charity project related to Alzheimer disease.
Elsa López will visit the IAC Headquarters and the Teide Observatory on Monday 21st March.
Press release of the project "En un lugar del Universo…":
http://www.iac.es/divulgacion.php?op1=16&id=1039&lang=en