Total budget of the action
8.139.000,00 €
Amount granted to the IAC Consortium
6.918.150,00 €
Description
The operation contemplated here includes 11 sub-actions grouped in 4 main actions with high priority in the current Strategic Plan of the Observatorios de Canarias.
The total eligible budget amounts to 8,139,000.00 € of which 85% are with FEDER funds.
This operation is part of the IAC´s commitment  to consolidate the Canary Islands Observatories as sites for world reference for astronomical observation, at most responsible for the operation of the international Observatories of the Roque de los Muchachos (ORM) on the island of La Palma, and Teide (OT) in Tenerife. The excellent astronomical quality of the sky of The Canary Islands, comprehensively characterized and protected by Law, makes the Observatories of the  Instituto de Astrofísica de Canarias an " astronomy reserve", that has been open to the international scientific community since 1979, in accordance with the Agreements for Cooperation in Astrophysics.
The strategic investment within the framework of the INSIDE agreement are:
ACTION 1. ADVANCED INSTRUMENTATION FOR TELESCOPIC FACILITIES
Major upgrade of WHT

Develop and construct leading astronomical instrumentation: ARES: HARPS3 & HORuS

Development of Laser Guide Star Facility

Scientific instrumentation of the CMB laboratory at Teide Observatory.
ACTION 2. ENHANCE TECHNOLOGICAL CAPABALITIES AT THE OBSERVATORIES, INCLUDING THE JOINT DEVELOPMENT OF STATE-OF-THE-ART INSTRUMENTATION
Major upgrade of detectors to carry out specific observing programmes

Control system for TCS and IAC80.
ACTION 3. ENABLE WORLD-CLASS RESEARCH
European Solar Telescope (EST)
ACTION 4. CONTINUE TO IMPROVE THE QUALITY AND QUANTITY OF THE SERVICES AND SUPPORTING INFRASTRUCTURES AT THE OOCC
Support infrastructure to adequate weather / fire conditions at ORM

Improvement of ORM electrical infrastructure
Theses 4 main actions complement each other to provide and support state-of-the-art facilities to perform frontier research in Universe Sciences, ensuring the best natural, technological and logistical conditions, while fostering a fruitful framework of international collaboration.
Related projects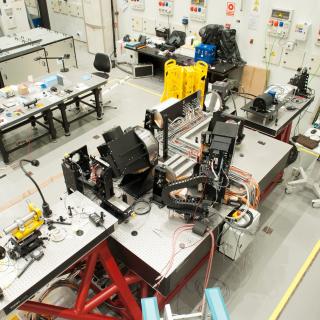 GTCAO LGS. Adaptative Optics and Laser Guide Star for GTC
The Adaptive Optics (AO) for the Gran Telescopio Canarias (GTC) corrects the effect of the atmospheric turbulence on the light, to exploit the high spatial resolution capability of GTC. The Laser Guide Star (LGS) extends the coverage of GTCAO to any part of the sky, increasing dramatically the capability to do high spatial resolution science.
Víctor Javier
Sánchez Bejar