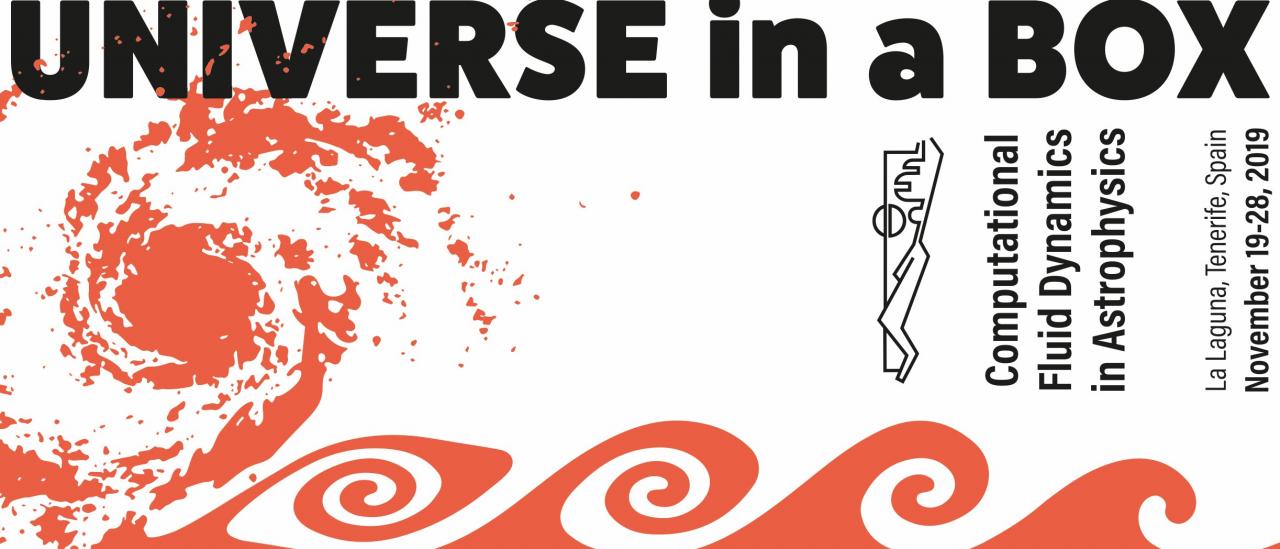 Tuesday 19th November the XXXI edition of the Winter School of the Instituto de Astrofísica de Canarias will start. This year it will be devoted to the computational methods which are used in different fields of astrophysics to simulate the dynamics of fluids. The school will take place in the assembly hall in the Guajara Campus of the University of La Laguna.
From 19th to 28th of November ove 60 doctoral students and postdoctoral researchers from various different countries will participate in the XXXI Winter School of the IAC to learn about the different methods and applications of computational fluid dynamics. This discipline, which requires the design of complex algorithms with modern informatic architecture, and the optimization of computer codes to achieve máximum output, has a large number of applications in different branches of astrophsical research, but also in fields as different as aerospace engineering, meteorological simulation, the design and analysis of industrial systems, and biological engineering.

The school will include lectures, practical sesions, and seminars given by well-known experts in the field of Computational Fluid Dynamics, from the processes which take place in the solar atmophere and the convective zones of the Sun and other stars, to the formation of galaxies, taking in the dynamics of the interstellar medium, and General Relativity. The objective of this school is to give the participants detailed knowledge of the science in each of these fields, the numerical algorithms used in this type of simulations, and practical experience in the techniques for high performance supercomputers, parallel programming codes, and different data formats.
This edition is being organized by the IAC researchers Claudio Dalla Vecchia, Nikola Vitas, and Elena Khomenko, and there will be seven lecturers: Maarit Käpylä, a researcher at the Max Planck Insitute for Solar System Research (Germany) Fernando Moreno Insertis, a researcher at the IAC, Matthias Rempel, a researcher at the High Altitude Observatory (USA), Sascha Husa, professor at the University of the Balearic Islands (Spain) Åke Nordlund , Professor at the University of Cologne, (Germany), Stefanie Walch-Gassner, Professor at the Physics Institute of the University of Cologne (Germany) and Tom Theuns , Professor at the Institute for Cosmological Computationat the University of Durham (United Kingdom).
According to Claudio Dalla Vecchia, "the main objective of the school is that the students share their experince in solving different astrophysical problems, and learn the different applications of computational fluid dynamics. In addition, the programming abilities and knowledge acquired in this field are an excellent basis for work within companies oriented towards technology, both private and public".
This year's addition include visits to the IAC Headquarters, the Teide Observatory in Tenerife and to the Roque de los Muchachos Observatory in La Palma. Among the activities related to this meeting the researcher Sascha Husa will give a public lecture on Friday November 22nd at 19 h in the Museum of Science and the Cosmos of the Cabildo of Tenerife.
More information:
XXXI Escuela de Invierno del IAC Web
Contact:
Claudio Dalla Vecchia, investigador del IAC:

caius

[at]

iac.es

Nikola Vitas, investigador del IAC:

nvitas

[at]

iac.es

Elena Khomenko, investigadora del IAC:

elena.khomenko

[at]

iac.es