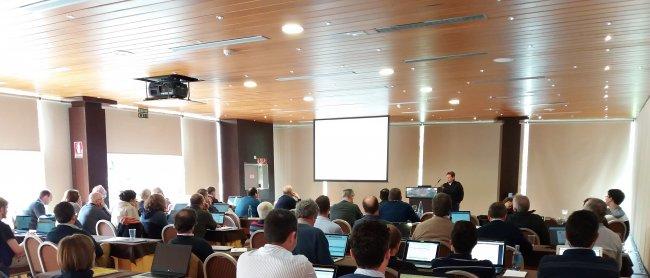 The members of the consortiium which is developing HARMONI have met in the Lsd Águilas Hotel, Puerto de la Cruz, to continue with the development and construction of this instrument after presenting its preliminary design. HARMONI is the spectrograph which will observe first light through the Extremely Large Telescope (ELT), 39 m in diameter, the largest project in optical and infrared astronomy from the ground, in the European Southern Observatory (ESO) which will be built on the Cerro Armazones in the Chilean Andes.
The meeting took place on February 5th, 6th, and 7th, and has"confrimed the main technical characteristics of the instrument, so that work can begin on the following phases of its development and construction, according to Evencio Mediavilla, the IP of the instrument at the IAC and the University of La Laguna.
The participation of the IAC in HARMONI will place the researchers at the institute in a privileged postion to take scientific advantage of the first spectrograph which will opérate on the larges telescope in the world, which will enable astronomers to observe with unprecedented accuracy the most distant galaxies, when the universe was still young.  The current team working at the IAC associated with HARMONI includes peronnel from various departments, including Optics, Mechanics, Electronics, Management, and Research.
Begoña García Lorenzo, researcher at the IAC explained that the institute had cooperated in the project along three main lines: the design of the pre-optics of the instrument, the coordination of its structure and control electronics, and the definition of the science cases for which it will beused. From the point of view of technology, as it is a front-line cryogenic instrument, it will give the chance to gain much experience in this type of appratus, putting us in the Forefront in the development of cryogenic mechanisms for astophysical instrumentation.
Contact at the IAC:
Evencio Mediavilla:

emg

[at]

iac.es

Begoña García:

bgarcia

[at]

iac.es