Alabarta, K.; Altamirano, D.; Méndez, M.; Cúneo, V. A.; Vincentelli, F. M.; Castro-Segura, N.; García, F.; Luff, B.; Veledina, A.
Bibliographical reference
Monthly Notices of the Royal Astronomical Society
Description
Black hole low-mass X-ray binaries (BH LMXBs) evolve in a similar way during outburst. Based on the X-ray spectrum and variability, this evolution can be divided into three canonical states: low/hard, intermediate, and high/soft state. BH LMXBs evolve from the low/hard to the high/soft state through the intermediate state in some outbursts (here called 'full outbursts'). However, in other cases, BH LMXBs undergo outbursts in which the source never reaches the high/soft state, here called 'failed-transition outbursts' (FT outbursts). From a sample of 56 BH LMXBs undergoing 128 outbursts, we find that 36 per cent of these BH LMXBs experienced at least one FT outburst, and that FT outbursts represent ~33 per cent of the outbursts of the sample, showing that these are common events. We compare all the available X-ray data of full and FT outbursts of BH LMXBs from RXTE/PCA, Swift/BAT, and MAXI, and find that FT and full outbursts cannot be distinguished from their X-ray light curves, hardness-intensity diagrams, or X-ray variability during the initial 10-60 d after the outburst onset. This suggests that both types of outbursts are driven by the same physical process. We also compare the optical and infrared (O/IR) data of FT and full outbursts of GX 339-4. We found that this system is generally brighter in O/IR bands before an FT outburst, suggesting that the O/IR flux points to the physical process that later leads to a full or an FT outburst. We discuss our results in the context of models that describe the onset and evolution of outbursts in accreting X-ray binaries.
Related projects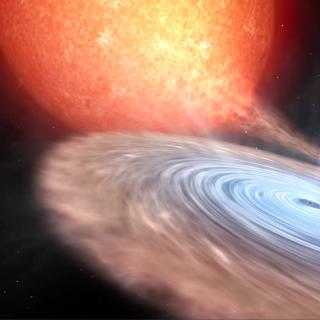 Black holes, neutron stars, white dwarfs and their local environment
Accreting black-holes and neutron stars in X-ray binaries provide an ideal laboratory for exploring the physics of compact objects, yielding not only confirmation of the existence of stellar mass black holes via dynamical mass measurements, but also the best opportunity for probing high-gravity environments and the physics of accretion; the most