Sánchez Almeida, J.
Bibliographical reference
Gas Accretion onto Galaxies , Astrophysics and Space Science Library, Volume 430. ISBN 978-3-319-52511-2. Springer International Publishing AG, 2017, p. 67
Description
Cosmological numerical simulations of galaxy evolution show that accretion of metal-poor gas from the cosmic web drives the star formation in galaxy disks. Unfortunately, the observational support for this theoretical prediction is still indirect, and modeling and analysis are required to identify hints as actual signs of star formation feeding from metal-poor gas accretion. Thus, a meticulous interpretation of the observations is crucial, and this observational review begins with a simple theoretical description of the physical process and the key ingredients it involves, including the properties of the accreted gas and of the star formation that it induces. A number of observations pointing out the connection between metal-poor gas accretion and star formation are analyzed, specifically, the short gas-consumption time-scale compared to the age of the stellar populations, the fundamental metallicity relationship, the relationship between disk morphology and gas metallicity, the existence of metallicity drops in starbursts of star-forming galaxies, the so-called G dwarf problem, the existence of a minimum metallicity for the star-forming gas in the local universe, the origin of the α-enhanced gas forming stars in the local universe, the metallicity of the quiescent BCDs, and the direct measurements of gas accretion onto galaxies. A final section discusses intrinsic difficulties to obtain direct observational evidence, and points out alternative observational pathways to further consolidate the current ideas.
Related projects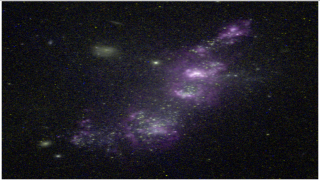 Starbursts in Galaxies GEFE
Starsbursts play a key role in the cosmic evolution of galaxies, and thus in the star formation (SF) history of the universe, the production of metals, and the feedback coupling galaxies with the cosmic web. Extreme SF conditions prevail early on during the formation of the first stars and galaxies, therefore, the starburst phenomenon constitutes a