Belmonte, J. A.; González-García, A. C.
Bibliographical reference
Mediterranean Archaeology and Archaeometry, Vol. 14, No 3, pp. 233-246
Description
Orientation studies have recently received considerable attention in the archaeological domain as a source of information that may shed light on a number of anthropological issues such as beliefs systems or landscape and territory apprehension by past cultures. This is especially important in those cultural contexts, such as the 'megalithic' phenome-na, where there are no written additional sources (Hoskin, 2001; González-García and Belmonte, 2010). This is the case of the Hafit and Umm en Nar cultures that dominated the eastern corner of the Arabian Peninsula during the Chalcolithic and the Early Bronze Age (EBA, third millennium BC), in the so-called land of Magan (present day Oman and the Emirates). In a field campaign in January 2012 several ancient EBA necropolises of the region were visited and (when possible) measured in an attempt to shed some light on the orientation customs of these ancient people. This paper presents the data for about seventy monuments, and the first outcomes of the fieldwork show that certain customs were present in the data that are far from being easily understood. This is the first sys-tematic archaeoastronomical approach ever conducted in the Arabian Peninsula.
Related projects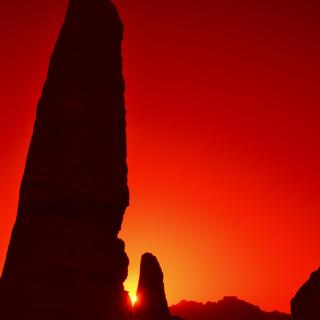 The main objective of this project is to study the importance of astronomy as a fundamental part of human culture and civilization from Paleolithic to the present day. Our interest is mainly devoted to the people of the ancient Mediterranean cultures from the Atlantic to the Middle East, with a special dedication to Spain, its geographical
Juan Antonio
Belmonte Avilés