Watanabe, S.; Tsuda, Y.; Saiki, T.; Yoshikawa, M.; Yumoto, K.; Zolensky, M. E.; Nakazawa, S.; Terui, F.; Tanaka, S.; Takeuchi, H.; Tsukizaki, R.; Wada, K.; Yamamoto, Y.; Yoshikawa, K.; Takahashi, T.; Takei, Y.; Shirai, K.; Soldini, S.; Shimada, T.; Shimaki, Y.; Ogawa, N.; Ono, G.; Ozaki, M.; Senshu, H.; Noda, H.; Noguchi, R.; Nguyen, A. N.; Nittler, L. R.; Nakamura-Messenger, K.; Namiki, N.; Miura, A.; Mori, O.; Michikami, T.; Mimasu, Y.; Lauretta, D. S.; Libourel, G.; Marty, B.; Matsumoto, K.; Kikuchi, S.; Kitazato, K.; Ishiguro, M.; Ishihara, Y.; Iwata, T.; Hirata, N.; Hirata, N.; Hirose, C.; Hosoda, S.; Iijima, Y.; Ikeda, H.; Fujimoto, M.; Yamada, T.; Arakawa, M.; Connolly, H. C.; Fujii, A.; Hasegawa, S.; Kumagai, K.; Okada, T.; Abe, M.; Usui, T.; Ireland, T. R.; Furuya, S.; Hatakeda, K.; Miyazaki, A.; Yogata, K.; Nakato, A.; Yoshitake, M.; Suzuki, A. I.; Honda, C.; Yoshimitsu, T.; Kubota, T.; Demura, H.; Yada, T.; Nishimura, M.; Matsuoka, M.; Sakatani, N.; Yamada, M.; Kouyama, T.; Suzuki, H.; Cho, Y.; Yoshioka, K.; Yokota, Y.; Hayakawa, M.; Honda, R.; Kameda, S.; Tatsumi, E.; Kurosawa, K.; Nakamura, A. M.; Ogawa, K.; Sugita, S.; Morota, T.; Yabuta, H.; Naraoka, H.; Tsuchiyama, A.; Imae, N.; Schwartz, S.; Thuillet, F.; Yurimoto, H.; Nakamura, T.; Noguchi, T.; Okamoto, C. et al.
Bibliographical reference
Description
The Hayabusa2 spacecraft investigated the C-type (carbonaceous) asteroid (162173) Ryugu. The mission performed two landing operations to collect samples of surface and subsurface material, the latter exposed by an artificial impact. We present images of the second touchdown site, finding that ejecta from the impact crater was present at the sample location. Surface pebbles at both landing sites show morphological variations ranging from rugged to smooth, similar to Ryugu's boulders, and shapes from quasi-spherical to flattened. The samples were returned to Earth on 6 December 2020. We describe the morphology of >5 grams of returned pebbles and sand. Their diverse color, shape, and structure are consistent with the observed materials of Ryugu; we conclude that they are a representative sample of the asteroid.
Related projects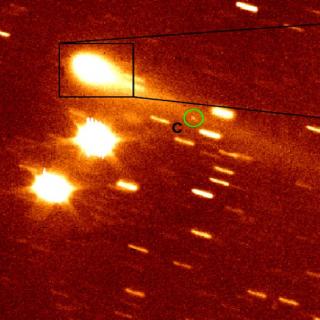 Minor Bodies of the Solar System
This project studies the physical and compositional properties of the so-called minor bodies of the Solar System, that includes asteroids, icy objects, and comets. Of special interest are the trans-neptunian objects (TNOs), including those considered the most distant objects detected so far (Extreme-TNOs or ETNOs); the comets and the comet-asteroid