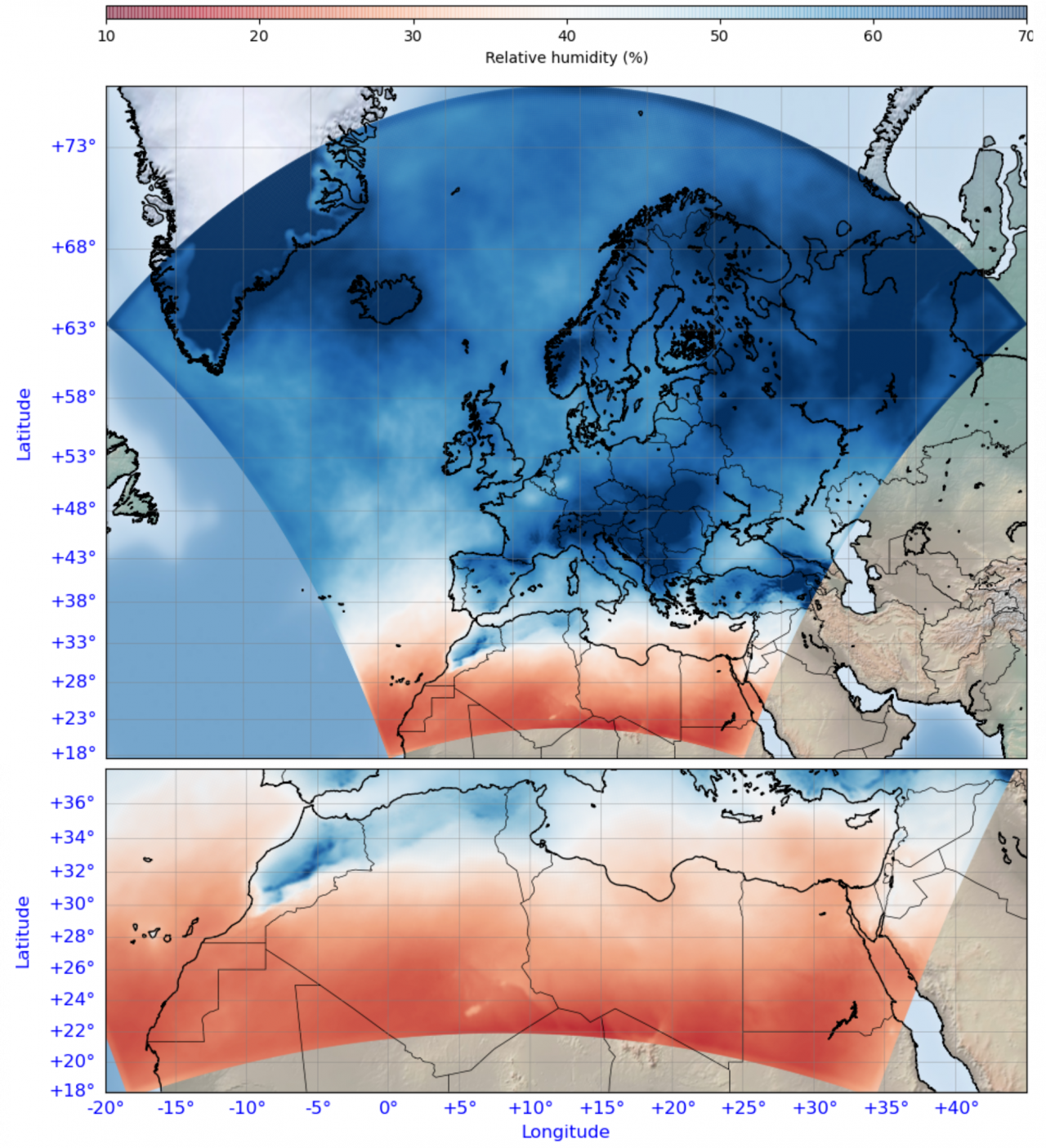 Frequency of measurement
Real time data
Description
The principal molecule responsible for the absorption in IR is water vapour (WV). The total amount of WV above a particular location is highly variable and commonly expressed as the precipitable water vapor (PWV), which is defined as the depth of liquid water (in mm) that would result if all the water vapor in the atmospheric column is condensed and precipitated. The PWV is used to diagnose the atmospheric humidity over a specific location.
Importance
More than 50% of the PWV is concentrated in the first 1.5 km above the surface. Its content increases with temperature about 7% for each degree. The H20 molecule in gas form shows three types of transitions that can absorb electromagnetic radiation: electronic, vibrational, and rotational transitions.
Electronic transitions: Electrons within the molecule are in an excited level by absorbing UV photons in the range (10~200 nm). The absortion in this range is very low.
Vibrational transitions: The H20 molecule gains energy by vibration with absorbing photons in the mid-IR bands for the range λ=1~3 μm (5 bands) and λ=5~8 μm (1 band)
Rotational transitions: The H20 molecule gains quatum rotational energy in the FIR for λ≥15μm
In the microwaves region, the rotational spectrum of the H20 molecule absorbs about 20% of the flux at 3 GHz and around 80% of the flux at 3 GHz.
The PWV is crucial factor for determining the IR sky quality due to its contribution in this spectral range.
Techniques of measurement
The measurements are obtained with the GNSS (Global Navigation Satellite System) technique by estimating delays in the frequencies from two different satellite-based radionavigation systems: GPS (Global Positioning System) and GLONASS (Global Navigation Satellite System). This technique was validated by García-Gil et al. (2010).
The Sky Team provides on-line PWV data in real time since 2011 that can be followed using the ORM PWV monitor and the OT PWV monitor.
Results
The median PWV content at ORM is 3.9 mm, with a high consistence between the different campaigns and periods.The 25th percentile for the PWV distribution at ORM is P25=2.3 mm. The percentage of time with good or excellent conditions (< 3 mm) is 38%. These values qualifies the ORM as a very good site for IR astronomy. The percentage of nights with good or excellent conditions (PWV remains < 3 mm) is >60% at ORM in February, March and April. The average temporal interval in which the PWV< 3 mm is comparable at the ORM and Mauna Kea with 16.9 h and 23.4 h, respectively.
Statistical results for water-vapour at Roque de los Muchachos Observatory (ORM) from MAR 10 ASTMON-OT. These GPS numbers were cross-calibrated using radiometer measurements. The calibration equation is the follow: PWV = (0.9 ± 0.1)×(GPS estimation) -(1.2 ± 0.1). X represents the percentile X
| | | | | | |
| --- | --- | --- | --- | --- | --- |
|   | Global | Winter | Spring | Summer | Autumn |
| All |   |   |   |   |   |
| Mean | 4.9 | 3.3 | 3.5 | 6.7 | 5.6 |
| σ | 3.7 | 2.3 | 2.4 | 4.3 | 3.8 |
| N | 30920 | 6886 | 7200 | 8655 | 8179 |
| 10th | 1.2 | 0.9 | 0.9 | 2.0 | 1.4 |
| 25th | 2.3 | 1.7 | 1.8 | 3.2 | 2.6 |
| 50th | 3.9 | 2.9 | 3.0 | 5.7 | 4.8 |
| 75th | 6.7 | 4.4 | 4.7 | 9.4 | 7.9 |
| 90th | 10.3 | 6.3 | 6.6 | 13.0 | 11.13 |
| All: PWV range |   |   |   |   |   |
| <2 mm | 21th | 31th | 29th | 9th | 17th |
| 2–3 mm | 17th | 21th | 20th | 13th | 13th |
| 3–6 mm | 33th | 36th | 37th | 30th | 31th |
| 6–10 mm | 18th | 10th | 12th | 26th | 25th |
| ≥10 mm | 11th | 2th | 2th | 22th | 14th |
| Day |   |   |   |   |   |
| Mean | 5.1 | 3.4 | 3.6 | 6.8 | 5.7 |
| σ | 3.7 | 2.2 | 2.3 | 4.2 | 3.8 |
| N | 12967 | 2514 | 3223 | 3904 | 3326 |
| 10th | 1.4 | 1.0 | 1.0 | 2.2 | 1.5 |
| 25th | 2.4 | 1.9 | 2.0 | 3.4 | 2.7 |
| 50th | 4.1 | 3.0 | 3.2 | 5.7 | 4.9 |
| 75th | 6.8 | 4.5 | 4.9 | 9.4 | 8.1 |
| 90th | 10.5 | 6.3 | 6.8 | 12.7 | 11.5 |
| Day: PWV range |   |   |   |   |   |
| <2 mm | 18th | 28th | 26th | 8th | 16th |
| 2–3 mm | 17th | 22th | 20th | 12th | 14th |
| 3–6 mm | 35th | 38th | 39th | 32th | 30th |
| 6–10 mm | 19th | 10th | 13th | 26th | 25th |
| ≥10 mm | 11th | 2th | 2th | 22th | 15th |
| Night |   |   |   |   |   |
| Mean | 4.8 | 3.3 | 3.3 | 6.7 | 5.7 |
| σ | 3.7 | 2.3 | 2.4 | 4.4 | 3.7 |
| N | 17921 | 4340 | 3977 | 4751 | 4853 |
| 10th | 1.2 | 0.8 | 0.8 | 1.9 | 1.4 |
| 25th | 2.1 | 1.6 | 1.6 | 3.1 | 2.6 |
| 50th | 3.8 | 2.8 | 2.9 | 5.7 | 4.7 |
| 75th | 6.6 | 4.4 | 4.5 | 9.5 | 7.8 |
| 90th | 10.2 | 6.3 | 6.4 | 13.1 | 11.0 |
| Night: PWV range |   |   |   |   |   |
| <2 mm | 23th | 33th | 32th | 11th | 17th |
| 2–3 mm | 16th | 20th | 20th | 13th | 13th |
| 3–6 mm | 32th | 35th | 35th | 29th | 31th |
| 6–10 mm | 18th | 10th | 11th | 25th | 25th |
| ≥10 mm | 11th | 2th | 2th | 22th | 14th |
Related documents
Water Vapour at La Palma and Mauna Kea
B. García-Lorenzo, A. Eff-Darwich. "Vapor de Agua en La Palma y Mauna Kea" 2005