Nakamura T. et al.; Tatsumi, E.
Bibliographical reference
Description
Samples of the carbonaceous asteroid Ryugu were brought to Earth by the Hayabusa2 spacecraft. We analyzed seventeen Ryugu samples measuring 1-8 mm. CO2-bearing water inclusions are present within a pyrrhotite crystal, indicating that Ryugu's parent asteroid formed in the outer Solar System. The samples contain low abundances of materials that formed at high temperatures, such as chondrules and Ca, Al-rich inclusions. The samples are rich in phyllosilicates and carbonates, which formed by aqueous alteration reactions at low temperature, high pH, and water/rock ratios < 1 (by mass). Less altered fragments contain olivine, pyroxene, amorphous silicates, calcite, and phosphide. Numerical simulations, based on the mineralogical and physical properties of the samples, indicate Ryugu's parent body formed ~ 2 million years after the beginning of Solar System formation.
Related projects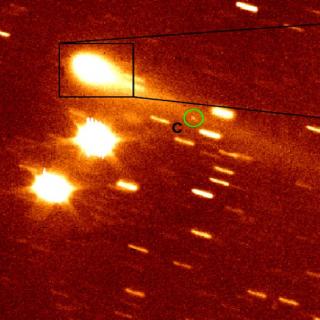 Minor Bodies of the Solar System
This project studies the physical and compositional properties of the so-called minor bodies of the Solar System, that includes asteroids, icy objects, and comets. Of special interest are the trans-neptunian objects (TNOs), including those considered the most distant objects detected so far (Extreme-TNOs or ETNOs); the comets and the comet-asteroid