A study led by the researcher of the Instituto de Astrofísica de Canarias Maitane Urrutia-Aparicio has shown the relevance of sunrise on Easter Sunday, one of the most important Christian festivities, in the orientation of Romanesque churches on the Camino de Santiago. This work exposes the close relationship between the sky and the orientation of the constructions of the Jacobean Route. It also shows that medieval societies already included temporal symbolism in the construction of their temples. The latest research results have been published in the journal Sustainability.
"The main objective of the article was to investigate the Jacobean Route as a channel of communication and propagation of ideas, which are reflected in technical aspects of the construction of churches, such as their orientation, for which the sky is a clear reference," says Maitane Urrutia.
Under this premise, the possible similarities and differences between the ancient Christian kingdoms crossed by the French Route were analysed: Leon, Castile, Navarre and Aragon. After studying a sample of more than 200 Romanesque churches on the Camino de Santiago, the researchers have shown that they follow a general pattern of orientation towards the northeast.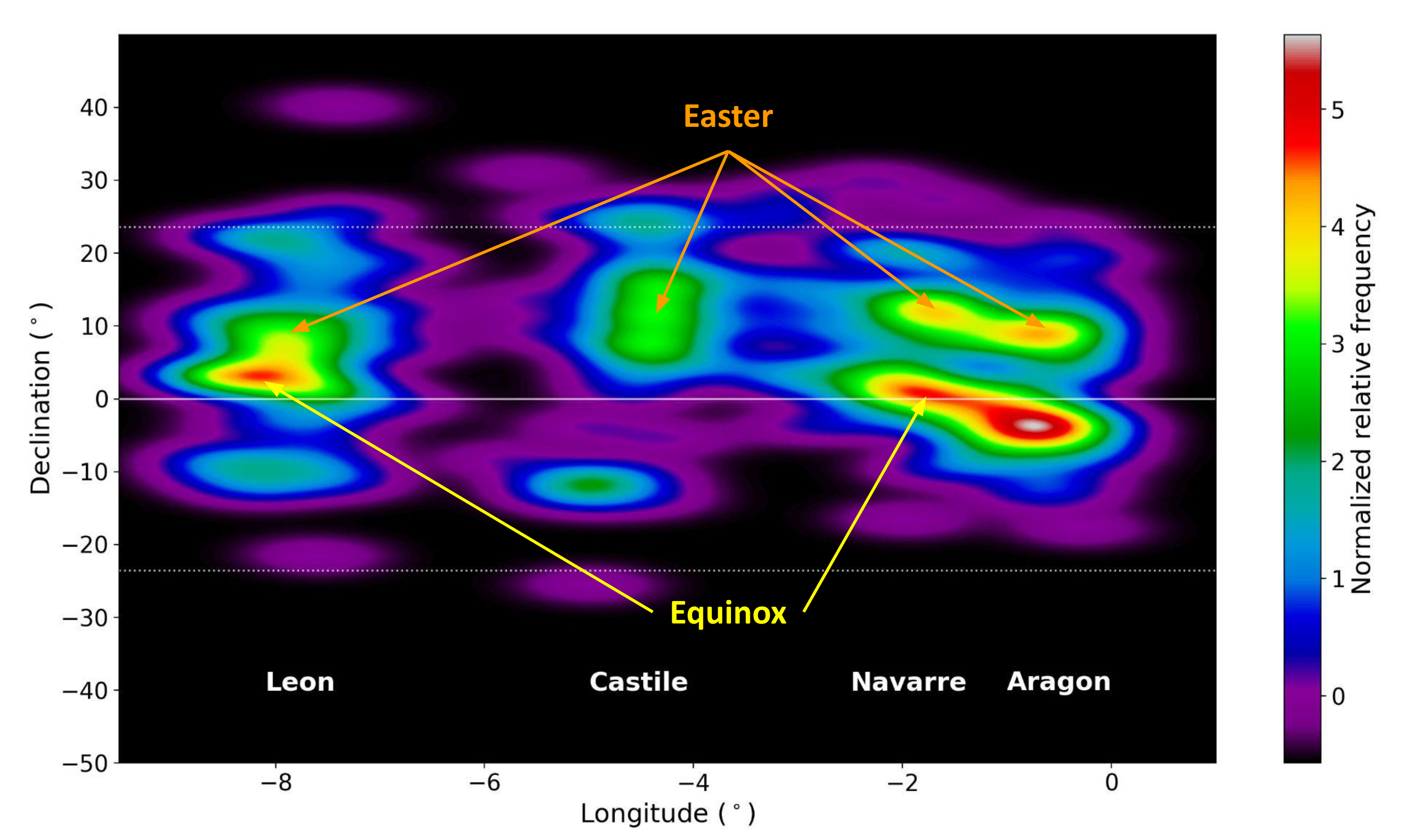 The equinox and Easter Sunday seem to be the most pursued alignments, although the archaeoastronomical results reveal different cultural patterns depending on the territories and the political and religious identities involved. In León, the most significant peak is related to sunrise on the ecclesiastical equinox, March 21, similar to pre-Romanesque churches. This indicates a possible continuation of previous traditions. Even so, Easter orientations are also present. On the contrary, in the churches of the neighbouring kingdom of Castile, including those in La Rioja, Easter Sunday orientations predominate.
In Navarre, there is a tendency towards the astronomical equinox and Easter appears, once again, as a secondary object. In addition, the study suggests that the equinoctial orientation was not obtained by direct observation of the Sun over the horizon, but could have been calculated by an indirect method such as the gnomon, which projected its shadow on a graduated scale -as in sundials- and allowed the passage of time to be measured.
Finally, the churches of Aragon constitute an unusual group, as they present possible alignments towards sunrise and sunset on Easter Day. "We detected a similar case in the mountainous region of Palencia, but so far it has not been possible to find a satisfactory explanation for any of these cases," explains Juan Antonio Belmonte, co-author of the paper and researcher at the IAC.
"This article adds value to the role played in medieval ecclesiastical architecture by the sky, and in particular the Sun, something ignored until now," remarks César González-García, another author of the research and investigator at the Incipit (CSIC). "This brings a new facet that reinforces the Outstanding Universal Value of a World Heritage Site and, consequently, increases the general interest of the public in the sky around us," concludes the research team. 
Article: Urrutia-Aparicio, M.; Belmonte, J.A.; González-García, A.C. Land- and Skyscapes of the Camino de Santiago: An Astronomy and World Heritage Sustainable Approach. Sustainability 2022, 14, 3047. https://doi.org/10.3390/su14053047
Contact at the IAC:
Maitane Urrutia (murrutia [at] iac.es)
Juan Antonio Belmonte (jba [at] iac.es)