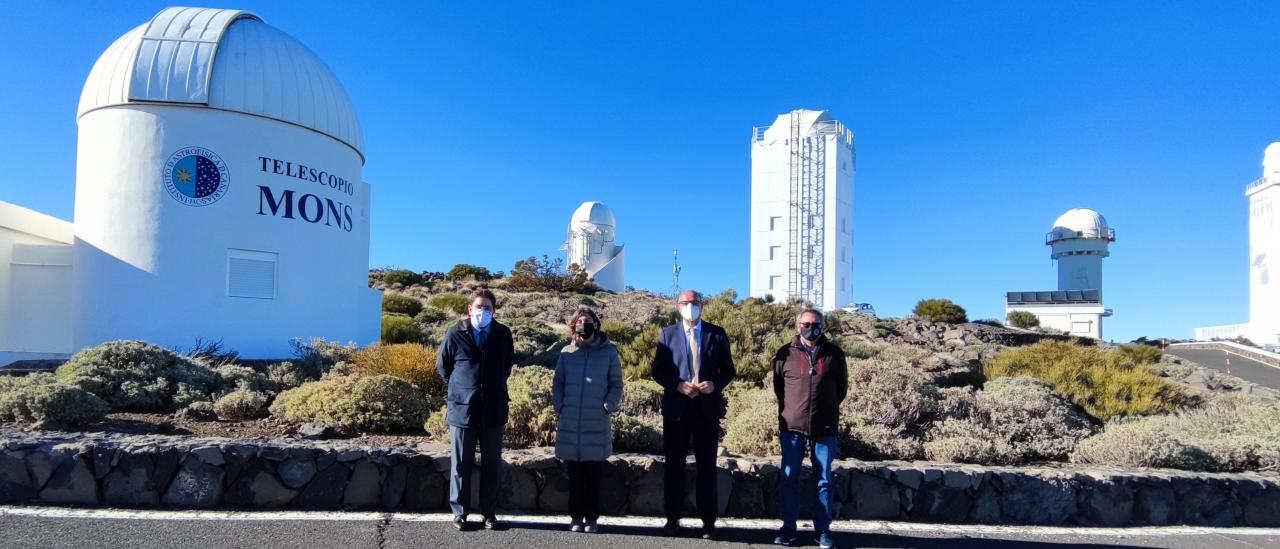 Yesterday there was a visit to the installations of the Teide Observatory (Tenerife) by the Secretary of State for Global Spain, Manuel Muñiz, accompanied by the Delegate of the Government in the Canaries, Anselmo Pestana, and the Deputy Director of the Cabinet, Guillermo Corral.
The Deputy Director of the Instituto de Astrofísica de Canarias, Casiana Muñoz-Tuñón, and the Administrator of the Teide Observatory (Observatorio del Teide), Miquel Serra-Ricart, told him about the effort being made in this research centre, and were able to show him some of the telescopes and instruments in the Observatory.
This visit is part of the programme of the Secretary of State for Global Spain "to understand the important institutions of Science and Technology in our country" explained Muñiz at the end of the meeting. Its aim is to enrich, and add detail to "the strategy with which we are going to build technological diplomacy in our country, and the major impulse we are going to give". In his declarations he insisted that "centres of this sort are not only centres of basic research. They are centres of technology transfer and are of enormous benefit to the regional economy and to the economy of our country".
Muñoz-Tuñon, speaking for the IAC said "We are grateful for the visit of the Secretary with whom we have talked about scientific and technological initiatives which will be part of the international strategy of our country. His visit, explained the Deputy Director of the IAC, has been the start of a collaboration which, without a doubt will produce many results, and which we hope will be most useful in continuing and strengthening further the development of Astrophysics in the Canaries.