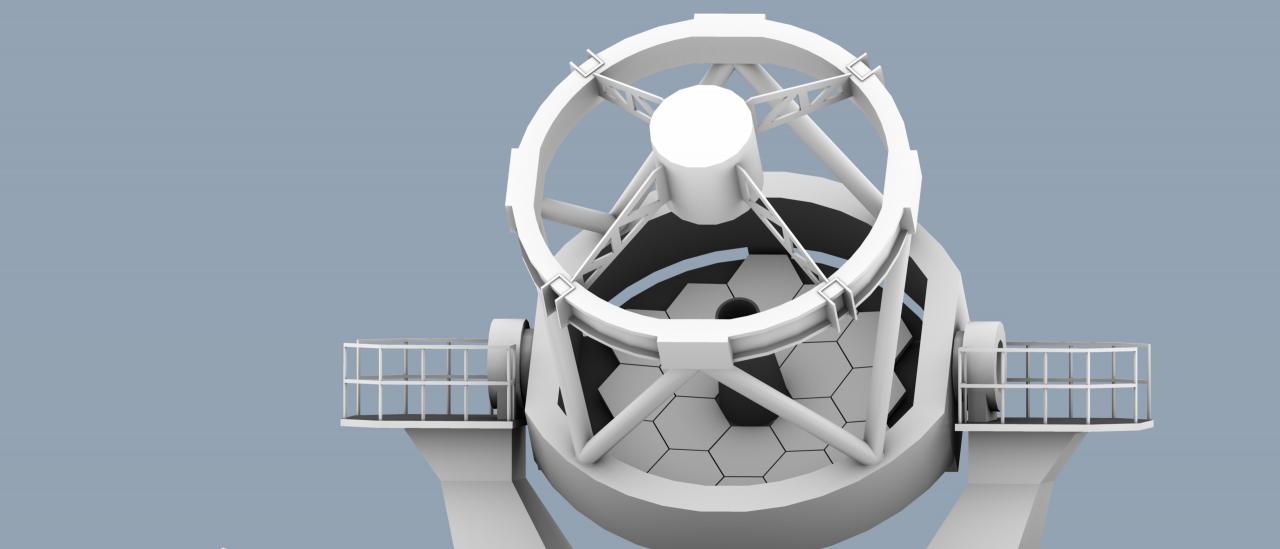 General

Description

The NRT (New Robotic Telescope) is a project to design and build a 4-meter telescope within five years, which from the ORM will operate in a totally autonomous and robotic way. This form of operation will make it the largest robotic telescope in the world and, together with the exceptional conditions for astronomical observation of the ORM, in the best prepared to access important physical phenomena in the areas of gravitational waves, planets outside the solar system, supernovas and other diverse areas of what has been called temporal domain astronomy.

The University of Liverpool John Moores (LJMU), the University of Oviedo and the IAC are part of the consortium. The project requires important technological advances in various areas of optics, mechanics, electronics and software, in particular the development of a robust, reliable and efficient control system. The innovative nature of the project in several aspects that can constitute reference standards for future developments fits perfectly with the objectives of IACTec.

With funding from the Government of the Canary Islands, in 2018 the first steps were taken for the creation of the technical team that will be responsible for articulating the participation of the IAC in the project. At present, the team is made up of highly specialized engineers in the areas of systems, mechanics and software. This group has worked in close contact with the LJMU team and has had an outstanding participation in the preparation of the first version of the preliminary design presented in December 2018. In parallel, an important interaction has been maintained with Spanish high-tech companies face to its involvement in the project and its possible installation in IACTec.
Members
Results

Publications related

LIVERPOOL TELESCOPE 2: A NEW ROBOTIC FACILITY FOR RAPID TRANSIENT FOLLOW-UP

Copperwheat, C. M.; Steele, I. A.; Barnsley, R. M.; Bates, S. D.; Bersier, D.; Bode, M. F.; Carter, D.; Clay, N. R.; Collins, C. A.; Darnley, M. J.; Davis, C. J.; Gutierrez, C. M.; Harman, D. J.; James, P. A.; Knapen, J. H.; Kobayashi, S.; Marchant, J. M.; Mazzali, P. A.; Mottram, C. J.; Mundell, C. G. ; ...

First published: 1 March 2015 https://link.springer.com/article/10.1007/s10686-015-9447-0

THE NEW 4‐M ROBOTIC TELESCOPE

C. M. Gutiérrez  D. Arnold  D. Copley  C. M. Copperwheat  E. Harvey  H. Jermak  J. Knapen  A. McGrath  A. Oria  R. Rebolo  I. A. Steele  M. Torres

First published: 28 March 2019 https://doi.org/10.1002/asna.201913556

Funding information: This work was partially funded by the Canary Islands' Regional Government and by the ERDF 2014‐2020 under the Grant Agreement SD 17/02.

THE 4 M NEW ROBOTIC TELESCOPE PROJECT: AN UPDATED REPORT

C. M. Gutierrez,1,2 M. Torres,1,2 A. Oria,1,2 J. J. Fernandez-Valdivia,1,2 D. Arnold,3 D. Copley, 3 C.
Copperwheat,3 J. de Cos Juez,4 A. Franco,1,2 Y. Fan,5 A. Garcia Pinero,1,2 E. Harvey,3 H. Jermak,3 X. Jiang,6 J. H. Knapen,1,2 A. McGrath,3 A. Ranjbar,3 R. Rebolo,1,2,7 R. Smith,3 I. A. Steele,3 Z. Wang,8 X. Wu,9 D. Xu,10 S. Xue,10 W. Yuan,10 and Y. Zheng11

Published Workshop on robotic Autonomous Observatories (AstroRob 2019) (2019)"RevMexAA(SC)

THE 4-M NEW ROBOTIC TELESCOPE (NRT): STATUS OF THE OPTOMECHANICAL SYSTEMS

Oria, A.; NRT Collaboration

Published: Contributions to the XIV.0 Scientific Meeting (virtual) of the Spanish Astronomical Society, July 2020

More info: http://adsabs.harvard.edu/abs/2020sea..confE.237O

Talks related

Title: The 4 m New Robotic Telescope

Author:  Carlos M. Gutiérrez

Place: Facultad de Óptica y Optometría. UCM, Madrid

Date: March 1st 2019

Title: Time Domain Astrophysics with Liverpool and New Robotic Telescopes

Author: Prof. Iain Steele,

Place: IAC Headquarters, La Laguna.

Date: September 18th 2019.

 

Congress: Sixth Workshop on Robotic Autonomous Observatories

Title: The 4 m New Robotic Telescope

Author: Carlos M. Gutiérrez

Place: Torremolinos (Málaga)

Date: September 30th 2019 

 

Workshop: Present and future of optical and infrared astronomy: synergies between China and Spain"

Title: The New 4-m robotic telescope and new concepts for future extremely large telescopes.

Author: Carlos M. Gutiérrez,

Place: Beijing (China)

Date: October 21st 2019

More info: http://astro.ucas.ac.cn/index.php/2016-03-17-01-36-23/2016-03-17-01-36-25/262-2019-11-14-10-30-57?umynzrsihmyuocln

 

Online Press

Title: El Roque acogerá el telescopio robótico más rápido y avanzado del mundo

Date: February 28th 2019. www.eldiario.es  (LaPalma Ahora)

Multimedia

RTVCA News: http://www.rtvc.es/noticias/video-a-la-espera-del-telescopio-liverpool-2-191194.aspx#.XdP6aTJETUI
Scientific activity

Conferences related

No related conferences were found.
Related news
The Minister of Science and Innovation this morning presided over the annual meeting of the Governing Council of the Instituto de Astrofísica de Canarias (IAC) after the "official opening" of the installations of IACTEC in La Laguna, which are fully operational from today. In a press conference he stressed the programmes which will be carried out in the Area of Cooperation Business-Technology, among them the new Centre of Advanced Optical Systems (CSOA). He also reported on the current state of the negotiations regarding the Thirty Meter Telescope (TMT), of greatest international interest