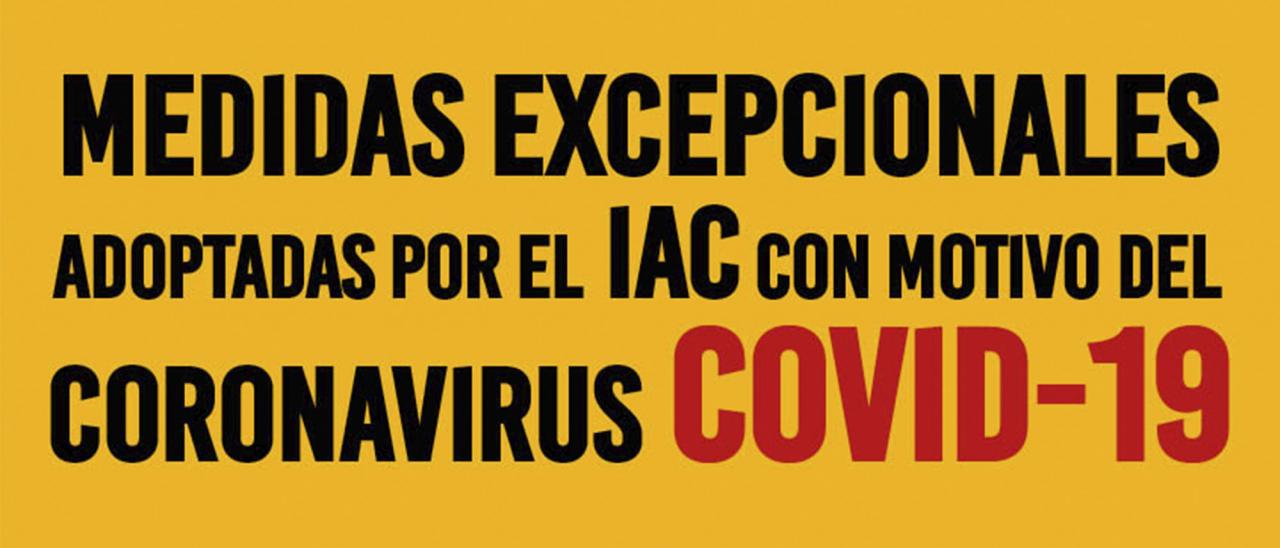 Following the instructions of the Spanish Government because of the health crisis due to coronavirus COVID-19, the Instituto de Astrofísica de Canarias (IAC) is adopting exceptional measures to guarantee the security of its personnel and of the public, while maintaining its activity as far as possible.
The presence of workers in the workplaces of the IAC and the Observatories is suspended until further notice, except for staff needed for minimum services.
INFORMATION FOR SUPPLIERS
You can get in contact with the IAC by phone at 922 605200 between the hours of 09:00 and 14:30h, email address consultas [at] iac.es and and also at https://iac.sede.gob.es/, or through the Common Electronic System at General Administration (Registro Electrónico Común de la AGE).
INFORMATION FOR THE MEDIA AND ASTRONOMICAL CONSULTATIONS
We will carry on attending to the media of communication and giving astronomical advice at the email address: prensa [at] iac.es .
Visits to the Observatories, and activities with presence of personnel in our educational and outreach projects are cancelled until further notice.
INFORMATION FOR THE STAFF OF THE IAC
The majority of the staff of the IAC will be working on line.
Minimum in-person services will be covered.
The Observatorios de Canarias will remain fully operative, but with minimum services and with the necessary measures of security.
More information: https://www.iac.es/en/coronavirus-alert
Thanks for your understanding and collaboration.
Together, all of us will overcome this world health crisis more quickly and better.