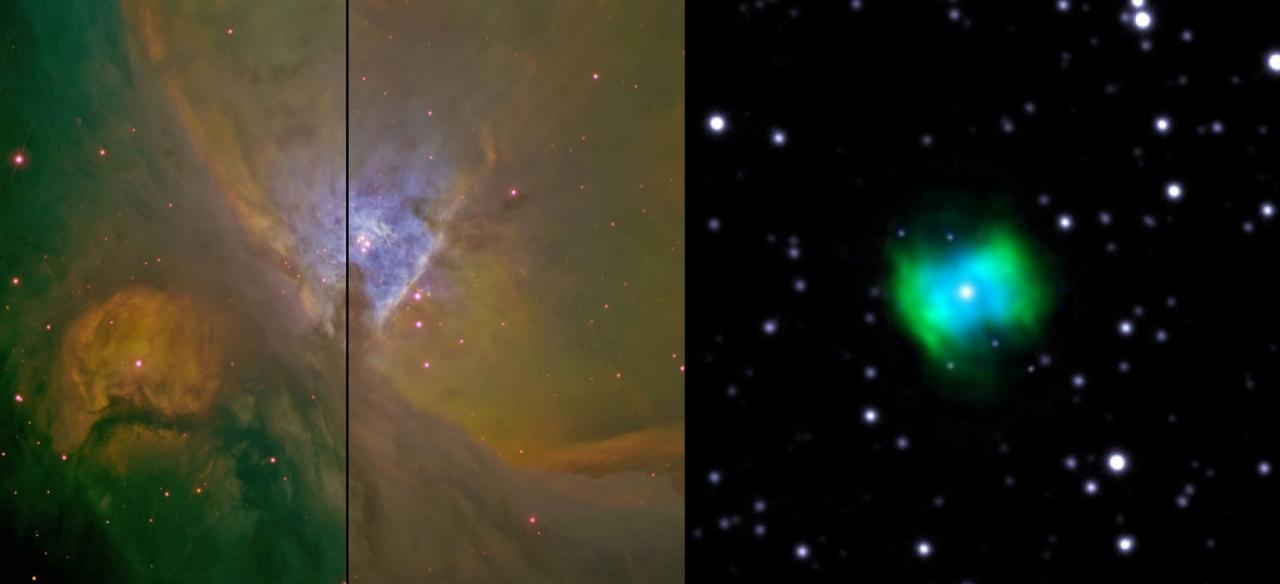 General

Description

The research that is being carried out by the group can be condensed into two main lines:

1) Study of the structure, dynamics, physical conditions and chemical evolution of Galactic and extragalactic ionized nebulae through detailed analysis and modelization of their spectra. Investigation of chemical composition gradients along the disk of our Galaxy and in nearby galaxies.

2) Determine the physical-chemical conditions of galactic planetary nebulae with bipolar geometry and nebulae around symbiotic stars. The aim is to understand the origin of bipolarity and to test theoretical models that attempt to explain nebular morphology and kinematics, with special emphasis on models with central binary stars. We will also study the implications of the evolution of binary systems in other astrophysical scenarios, such as the formation of jets, cataclysmic variables, and nova and supernova-type explosions.
Members
Results

Using EMIR/GTC spectra in the near infrared range, tellurium and bromine emission lines have been detected for the first time in two planetary nebulae. These heavy element detections in one of their places where they are formed, give us information about the abundance patterns of heavy elements owing to the r-process and the s-process.
Scientific activity

Related publications

The messy death of a multiple star system and the resulting planetary nebula as observed by JWST

Planetary nebulae—the ejected envelopes of red giant stars—provide us with a history of the last, mass-losing phases of 90% of stars initially more massive than the Sun. Here we analyse images of the planetary nebula NGC 3132 from the James Webb Space Telescope (JWST) Early Release Observations. A structured, extended hydrogen halo surrounding an

De Marco, Orsola et al.

The homogeneity of chemical abundances in H II regions of the Magellanic Clouds

We use very deep spectra obtained with the Ultraviolet-Visual Echelle Spectrograph at the Very Large Telescope to derive physical conditions and chemical abundances of four H II regions of the Large Magellanic Cloud (LMC) and four H II regions of the Small Magellanic Cloud (SMC). The observations cover the spectral range 3100-10400 Å with a

Domínguez-Guzmán, G. et al.

Searching for the next Galactic Luminous red nova

Luminous red novae (LRNe) are astrophysical transients believed to be caused by the partial ejection of a binary star's common envelope (CE) and the merger of its components. The formation of the CE is likely to occur during unstable mass transfer, initiated by a primary star which is evolving off the main sequence (a Hertzsprung gap star) and a

Addison, Harry et al.

Hubble constant and nuclear equation of state from kilonova spectro-photometric light curves

The merger of two compact objects of which at least one is a neutron star is signalled by transient electromagnetic emission in a kilonova (KN). This event is accompanied by gravitational waves and possibly other radiation messengers such as neutrinos or cosmic rays. The electromagnetic emission arises from the radioactive decay of heavy r-process

Pérez-García, M. A. et al.

A detailed study of the barium central star of the planetary nebula Abell 70

We present a detailed study of the barium star at the heart of the planetary nebula Abell 70. Time-series photometry obtained over a period of more than 10 yr demonstrates that the barium-contaminated companion is a rapid rotator with temporal variability due to spots. The amplitude and phasing of the photometric variability change abruptly

Jones, David et al.

MUSSES2020J: The Earliest Discovery of a Fast Blue Ultraluminous Transient at Redshift 1.063

In this Letter, we report the discovery of an ultraluminous fast-evolving transient in rest-frame UV wavelengths, MUSSES2020J, soon after its occurrence by using the Hyper Suprime-Cam (HSC) mounted on the 8.2 m Subaru telescope. The rise time of about 5 days with an extremely high UV peak luminosity shares similarities to a handful of fast blue

Jiang, Ji-an et al.

Photoionized Herbig-Haro objects in the Orion Nebula through deep high-spectral resolution spectroscopy - III. HH 514

We analyse the physical conditions and chemical composition of the photoionized Herbig-Haro object HH 514, which emerges from the protoplanetary disc (proplyd) 170-337 in the core of the Orion Nebula. We use high-spectral resolution spectroscopy from Ultraviolet and Visual Echelle Spectrograph at the Very Large Telescope and IFU-spectra from MEGARA

Méndez-Delgado, J. E. et al.

About Metallicity Variations in the Local Galactic Interstellar Medium

In this paper we discuss and confront recent results on metallicity variations in the local interstellar medium, obtained from observations of H II regions and neutral clouds of the Galactic thin disk, and compare them with recent high-quality metallicity determinations of other tracers of the chemical composition of the interstellar medium as B

Esteban, C. et al.

Spectroscopic analysis tool for intEgraL fieLd unIt daTacubEs (SATELLITE): case studies of NGC 7009 and NGC 6778 with MUSE

Integral field spectroscopy (IFS) provides a unique capability to spectroscopically study extended sources over a 2D field of view, but it also requires new techniques and tools. In this paper, we present an automatic code, Spectroscopic Analysis Tool for intEgraL fieLd unIt daTacubEs, SATELLITE, designed to fully explore such capability in the

Akras, S. et al.

The ionised and molecular mass of post-common-envelope planetary nebulae. The missing mass problem

Context. Most planetary nebulae (PNe) show beautiful, axisymmetric morphologies despite their progenitor stars being essentially spherical. Close binarity is widely invoked to help eject an axisymmetric nebula, after a brief phase of engulfment of the secondary within the envelope of the asymptotic giant branch (AGB) star, known as the common

Santander-García, M. et al.

MUSE spectroscopy of planetary nebulae with high abundance discrepancies

We present MUSE deep integral-field unit spectroscopy of three planetary nebulae (PNe) with high-abundance discrepancy factors (ADF > 20): NGC 6778, M 1-42, and Hf 2-2. We have constructed flux maps for more than 40 emission lines, and use them to build extinction, electron temperature (Te), electron density (ne), and ionic abundances maps of a

García-Rojas, J. et al.

Gradients of chemical abundances in the Milky Way from H II regions: distances derived from Gaia EDR3 parallaxes and temperature inhomogeneities

We present a reassessment of the radial abundance gradients of He, C, N, O, Ne, S, Cl, and Ar in the Milky Way using the deep optical spectra of 42 H II regions presented in Arellano-Córdova et al. (2020, 2021) and Méndez-Delgado et al. (2020) exploring the impact of: (1) new distance determinations based on Gaia EDR3 parallaxes and (2) the use of

Méndez-Delgado, J. E. et al.

TESS Eclipsing Binary Stars. I. Short-cadence Observations of 4584 Eclipsing Binaries in Sectors 1-26

In this paper we present a catalog of 4584 eclipsing binaries observed during the first two years (26 sectors) of the TESS survey. We discuss selection criteria for eclipsing binary candidates, detection of hitherto unknown eclipsing systems, determination of the ephemerides, the validation and triage process, and the derivation of heuristic

Prša, Andrej et al.

On the most luminous planetary nebulae of M 31

Context. The planetary nebula luminosity function (PNLF) is a standard candle that comprises a key rung on the extragalactic distance ladder. The method is based on the empirical evidence that the luminosity function of planetary nebulae (PNe) in the [O III] λ5007 nebular emission line reaches a maximum value that is approximately invariant with

Galera-Rosillo, Rebeca et al.

The post-common-envelope binary central star of the planetary nebula Ou 5: a doubly eclipsing post-red-giant-branch system

We present a detailed study of the stellar and orbital parameters of the post-common envelope binary central star of the planetary nebula Ou 5. Low-resolution spectra obtained during the primary eclipse - to our knowledge the first isolated spectra of the companion to a post-common-envelope planetary nebula central star - were compared to catalogue

Jones, David et al.

High-resolution Hα imaging of the northern Galactic plane and the IGAPS image database

The INT Galactic Plane Survey (IGAPS) is the merger of the optical photometric surveys IPHAS and UVEX based on data from the Isaac Newton Telescope (INT) obtained between 2003 and 2018. It captures the entire northern Galactic plane within the Galactic coordinate range |b|< 5° and 30° < ℓ < 215°. From the beginning, the incorporation of narrow-band

Greimel, R. et al.

Resolving the Circumstellar Environment of the Galactic B[e] Supergiant Star MWC 137.II. Nebular Kinematics and Stellar Variability

The Galactic B[e] supergiant MWC 137 is surrounded by a large-scale optical nebula. To shed light on the physical conditions and kinematics of the nebula, we analyze the optical forbidden emission lines [N II] λλ 6548,6583 and [S II] λλ 6716,6731 in long-slit spectra taken with ALFOSC at the Nordic Optical Telescope. The radial velocities display a

Kraus, Michaela et al.

The Missing Link? Discovery of Pulsations in the Nitrogen-rich PG 1159 Star PG 1144+005

Up to 98% of all single stars will eventually become white dwarfs-stars that link the history and future evolution of the Galaxy, and whose previous evolution is engraved in their interiors. Those interiors can be studied using asteroseismology, utilizing stellar pulsations as seismic waves. The pulsational instability strips of DA and DB white

Sowicka, Paulina et al.

Photoionized Herbig-Haro Objects in the Orion Nebula through Deep High Spectral Resolution Spectroscopy. II. HH 204

We analyze the physical conditions, chemical composition, and other properties of the photoionized Herbig-Haro (HH) object HH 204 through Very Large Telescope echelle spectroscopy and Hubble Space Telescope imaging. We kinematically isolate the high-velocity emission of HH 204 from the emission of the background nebula and study the subarcsecond

Méndez-Delgado, J. E. et al.

Binary central stars of planetary nebulae identified with Kepler/K2

We present the identification of 34 likely binary central stars (CSs) of planetary nebulae (PNe) from Kepler/K2 data, seven of which show eclipses. Of these, 29 are new discoveries. Two additional CSs with more complicated variability are also presented. We examined the light curves of all 'possible', 'likely', and 'true' PNe in every Kepler/K2

Jacoby, George H. et al.

Related talks

No related talks were found.

Related conferences

No related conferences were found.
News