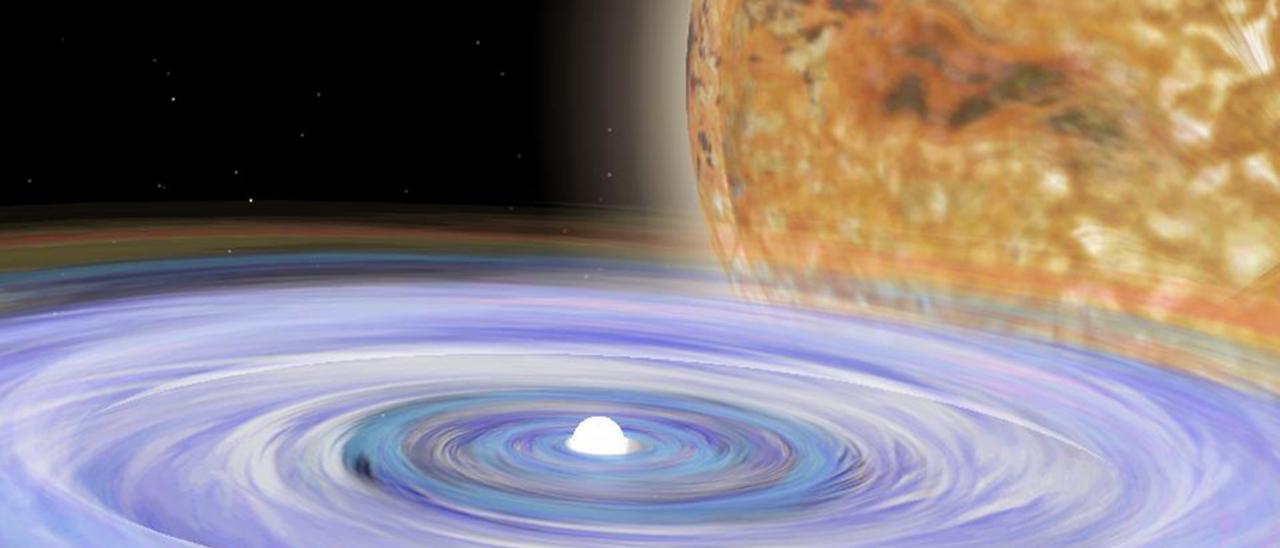 General

Description

The study of binary stars is essential to stellar astrophysics. A large number of stars form and evolve within binary systems. Therefore, their study is fundamental to understand stellar and galactic evolution. Particularly relevant is that binary systems are still the best source of precise stellar mass and radius measurements.

Research lines:

Determination of absolute parameters of Algol-type eclipsing binaries. In 2006 we started a new project to derive accurate masses and radii of low-mass eclipsing binaries of spectral type M. These will be confronted with theoretical predictions for the lower main sequence.

Study of the structure and evolution of cataclysmic variables (CVs). Among the main goals we highlight a fundamental test of the current evolution theory, which will observationally prove or discard several of its predictions. In doing so, population studies on both the observed minimum orbital period region (~ 80 min) and the upper boundary of the period gap (in the 3-4.5 hour orbital period range) are being performed. On the other hand, our research has demonstrated the existence of a huge pile-up of intrinsically very luminous CVs (with the highest mass transfer rates known), with orbital periods just above 3 hours, in apparent contradiction to theoretical expectations. The masses of these systems are being determined using ToO time in 8-m class telescopes as VLT and Gemini, and the 10.4-m GTC when a system falls into a low brightness state characterised by the quenching of the mass transfer from the donor star to the white dwarf.

Study of central binary stars of planetary nebulae. One plausible effect leading to bipolar shapes in planetary nebulae is the presence of a progenitor binary star in their centres, containing at least one white dwarf. This project is aimed at finding a significant "bipolarity-binarity" correlation within bipolar planetary nebulae. Further, the history of the mass ejection episodes will give clues to the common-envelope stage, still poorly understood.

In mid-2017 we started another research line in the field of white dwarfs: the study of post-planetary remnants around these stars, which can greatly benefit from our studies of accretion discs in cataclysmic variables.
Members
Results

Many white dwarf stars show signs of having accreted smaller bodies, implying that they may host planetary systems. A small number of these systems contain gaseous debris discs, visible through emission lines. We found a stable 123.4-minute periodic variation in the strength and shape of the Ca II emission line profiles originating from the debris disc around the white dwarf SDSS J122859.93+104032.9. We interpret this short-period signal as the signature of a solid-body planetesimal held together by its internal strength. Results published in Science.
Discovery of a giant bubble-like shell around M31N 2008–12a, the recurrent nova with the shortest eruption recurrence period (one year). Results published in Nature.
A fast GTC/OSIRIS spectrophotometric study of the white dwarf WD 1145+017 has been published in Monthly Notices of the Royal Astronomical Society that reports confirmation of the evolution of the periodic transits that occur every 4.5 hours. The deepest transit detected to date has been modelled with six equally spaced fragments of the disrupting planetesimal.

In 2018 an International Time Programme for follow-up of gravitational wave events was awarded (PI Jonker, SRON, The Netherlands). Several members of the projects are co-Is. Rodríguez-Gil will serve as chair on the Executive Committee.
Scientific activity
News